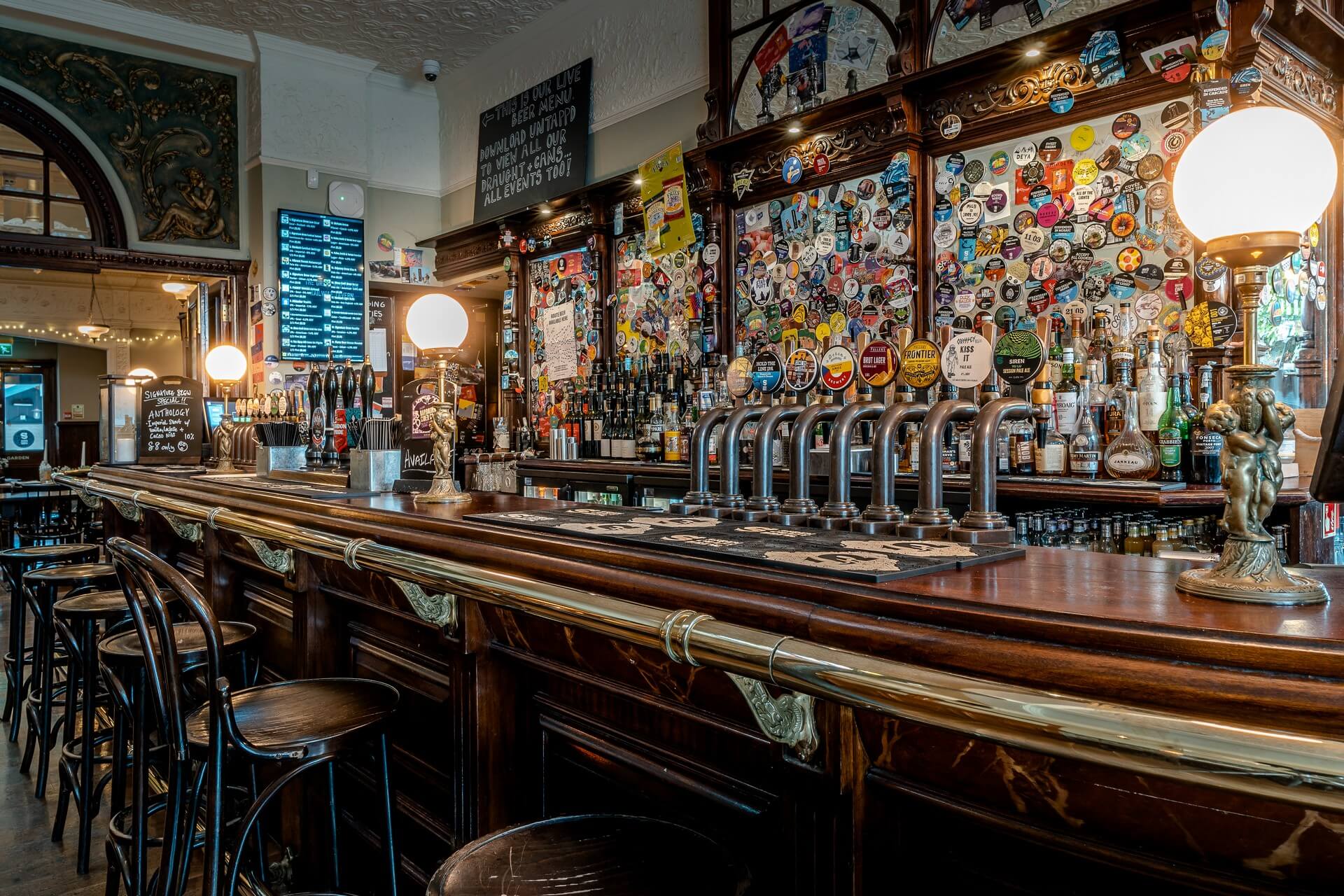 The finest pub in Hornsey for craft beer connoisseurs, The Great Northern Railway Tavern invites you to seek out a new favourite pint and savour some old classics too.
There are 24 craft beer taps on the bar, with the likes of Frontier, London Pride Unfiltered and Sierra Nevada joined on the pumps by guest beers from local breweries such as Redemption, and other UK brewers like Magic Rock.
It's not all about the ales here though. We have a wonderful wine list with beautiful bottles from around the world, and a superb collection of spirits including our own crisp and refreshing seasonal gin infusions. And, for day-time relaxation or the perfect after-dinner pick me up, we're also proud to serve delicious Brewer Street coffee.
Drink at The Great Northern Railway Tavern
Opening Times
| Day | Opening Time | Second opening Time |
| --- | --- | --- |
| Monday | | 12:00 - 23:00 |
| Tuesday | | 12:00 - 23:00 |
| Wednesday | | 12:00 - 23:00 |
| Thursday | | 12:00 - 23:00 |
| Friday | | 12:00 - 00:00 |
| Saturday | | 12:00 - 00:00 |
| Sunday | | 12:00 - 22:30 |
Food Times
| Day | Opening Time | Second opening Time |
| --- | --- | --- |
| Monday | | 12:00 - 21:00 |
| Tuesday | | 12:00 - 21:00 |
| Wednesday | | 12:00 - 21:00 |
| Thursday | | 12:00 - 21:00 |
| Friday | | 12:00 - 21:00 |
| Saturday | | 12:00 - 21:00 |
| Sunday | | 12:00 - 20:00 |
Seasonal Opening Times
Seasonal Opening Times

| Day | Opening Time | Second opening Time |
| --- | --- | --- |
| Christmas Eve | 12:00 - 20:00 | |
| Christmas Day | 12:00 - 15:00 | |
| Boxing Day | 12:00 - 18:00 | |
| New Year's Eve | 12:00 - 01:00 | |
| New Year's Day | 12:00 - 18:00 | |
Seasonal Food Hours
| Day | Opening Time | Second opening Time |
| --- | --- | --- |
| 24 Dec 2023 | 12:00 - 19:00 | |
| 26 Dec 2023 | 12:00 - 17:30 | |
| 31 Dec 2023 | 12:00 - 19:00 | |
| 01 Jan 2024 | 12:00 - 17:30 | |